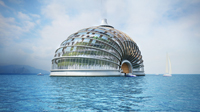 05/20/2011
Las Vegas, Nevada, USA (May 20, 2011)- Alexander Remizov of Remistudio (Moscow) won the grand prize in the 5th Annual HD/JHG Radical Innovation in Hospitality Competition for The Ark Hotel. Five years ago, the John Hardy Group (JHG) and Hospitality Design magazine (HD) joined forces with the goal of honoring leading-edge ideas in the marketplace. Today, the competition is the industry's gold standard for radical thinking. "Our ultimate goal is to improve the industry-to discover new ideas, new trends, and people," says John Hardy, president and CEO, JHG, who co-founded the competition with HD. "My goal was to find the next real innovator."
THE CONCEPT / NARRATIVE
For contemporary architecture two aspects are of the highest concern: the first one is maintenance of security and precautions against extreme environmental conditions and climate changes. The second one: protection of natural environment from human activities. The Ark Hotel makes an attempt to answer these challenges of our time. This Ark Hotel can be built quickly after natural disasters or rising of sea level for temporary accommodation of victims-because the building may hold onto the water surface protected from earthquakes, and consumes energy, which itself produces. The Ark Hotel is a green hotel. The independent-from-power-networks building can be constructed in the most beautiful and previously inaccessible places, including the water surface, while respecting the environment. Autonomy from the existing infrastructure should create unique opportunities for guests-to live in comfort and safety in wild nature or drifting over the water, watching the changing landscape around them.
http://www.radicalinnovationinhospitality.com/winners/14-2011-winners