Signing the application for membership you assume an obligation to represent, support and propagate tasks and purposes of RSABC stated in the Charter. By-turn you can use the "Member of Green Building Council" designation and RSABC logo in your own work with the public.
As a member of RSABC you have the right to vote at the elections, you can take part in the passing of resolutions and decisions during the general meetings and have the right to be elected in the Board and Certification commission. Associated members of RSABC do not have the right to vote at the general meeting and cannot be elected to the Board or the Committees, with the exception of the Expert Group.
RSABC membership under no circumstances includes the right to use the "Sustainable development certificate" issued by the Advisory Board.
Members fees
Entrance fee for all members categories is 20 000 rubles in compliance with the RSABC Charter.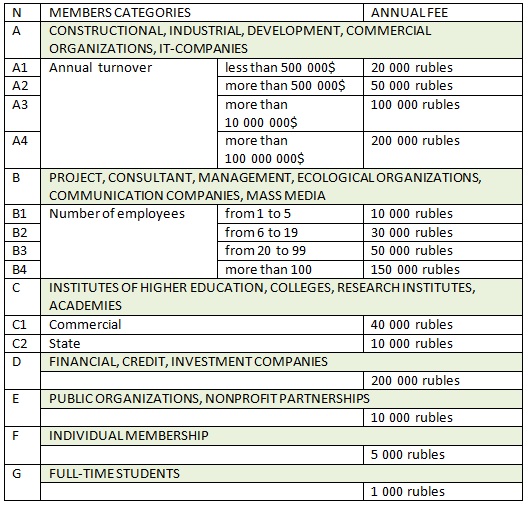 Discount 50% for subsidiaries of organizations - RSABC members*
Discount 30% for organizations - members of "Green" Councils of other countries*
* - discounts don't summarize
Partnership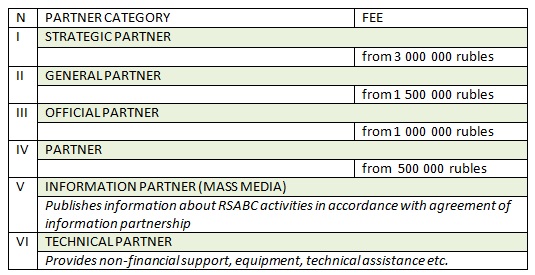 For each category is developed individual sponsorship package consistent with target audience,
market positioning, part in RSABC activities.
List of documents for foreign members
Legal entities:
The application to the Chairman of the Board;
Abstract of trade register of the country of provenance of the legal entity or other equal validation of the juridical status of the foreign organization as consistent with the legislation of the country of residence (notarized copy with the mark of legalization and certified translation into Russian language).
Individuals:
The application to the Chairman of the Board;
International passport copy with the translation into Russian language notarized by Russian public notary.